Bonus Content: Asking for Help by Aidan Doyle
From Aidan Doyle's "The Writer's Book of Doubt"
This weekend we have more great bonus content from Aidan Doyle's excellent The Writer's Book of Doubt, which contains practical advice and inspiration for dealing with the problems of the writing life. It's out right now! And for the month of July, all posts to the paid subscriber tier of this newsletter include a 50% off promo code for it.
Today's essay is something I struggle with myself: asking for help.
Asking for Help
by Aidan Doyle
There will be many times when it's useful to ask for help. You need advice. You'd like feedback on a story. You want people to come to your book launch or signing. You need to raise money to attend an international workshop. Some people feel hesitant to ask for help and don't want to impose. Others have no qualms about spamming everyone they've ever met with demands to contribute to their crowdfunding campaign or vote for their book in an online poll.
It's important to ask for help, but how much is too much? This obviously varies by situation and person. When it comes to asking people to buy your book or support your crowdfunding campaign, a good general rule is to let people know you're looking for support, but don't directly pressure individuals to give you money. Most people want you to succeed, but not everyone has money to spare. Even if it's only a few dollars, it can add up if you bought books from everyone you knew online.
If you're uncomfortable with the idea of asking for anything at all, it's worth watching Amanda Palmer's TED talk on The Art of Asking. She says that artistic endeavors should be valued and that stories and art are worthy of payment. "Asking makes you vulnerable... Through the very act of asking people, I'd connected with them, and when you connect with them, people want to help you."
What about when you need to ask someone for a personal favor? You think they'd be the perfect person to write a blurb quote for your book. Most people want to help their friends and colleagues, and in many cases they'll be flattered to be asked, but people are limited by time. Most writers can't keep up with all the books they want to read and have their own deadlines, so maybe they can't make the time to read your book. In most cases, it doesn't hurt to ask, but don't be upset if people say no. They don't owe you an explanation. Thank them for their response and move on. Some people don't like saying no, so they simply won't reply. If you have an agent, getting them to ask for blurbs can be one way to avoid the awkwardness of people turning you down.
If your first interaction with someone is asking for a favor, it can leave an unfavorable impression, especially if people think you're only interested in what they can do for you. If someone accepts your friend request, don't immediately send them an invitation to like your author page. Respect how people want to be contacted. If an agent has asked people to send queries to their work email address, don't send them to their personal email.
Don't ask author friends if you can have a free copy of their book. Don't ask someone you've just met to read your manuscript. Don't email people to ask them things you could have easily looked up online. Try to avoid asking questions that are too general (Please tell me the secrets of writing.)
Be especially cautious if you're asking someone from a marginalized community to do you a favor for free. If you want feedback on how you've represented a culture, get a paid sensitivity read. Don't ask people from marginalized communities to give you permission to write about their culture.
I'm not someone who finds it easy to ask for help. I don't like feeling obligated to others. It's also easy to let my pride get in the way of asking for help. When I told one of my Iranian co-workers that I was planning to visit Iran, she told me her family would be happy to help if I had any issues. She warned me it was difficult for foreigners to get cash when they were in Iran (due to economic sanctions, Visa and Mastercard aren't available). I'm an experienced traveler and I made preparations to take extra cash. Due to a series of events (including the single ATM in Istanbul airport's departures lounge being out of order), I didn't have nearly enough cash when I arrived, but was reluctant to ask my co-worker's family for help. I didn't want to impose and felt embarrassed about letting myself get into that situation. I didn't want to cut short my trip, so I reached out to my co-worker's family. At short notice, they loaned me a substantial amount of cash, invited me to stay in their apartment and took me around the sights of Tehran. Their kindness was one of the highlights of my travels.
When people help you, make the effort to at least send them a personalized thank you. Look out for opportunities to help them.
There's a difference between asking someone for a favor and following up when someone owes you something. When an agent or editor has said they'll get back to you with a response by a certain date and that date has passed, don't feel bad about sending a polite message asking for an update. Especially when you're dealing with magazines, there will be times when you have to chase up publishers to get paid. No one likes having to act like a debt collection agency. It can be especially awkward if you're friends with the publisher. You deserve to be paid for your work. If you've tried to resolve this and are still waiting for your payment, one option is to enlist the aid of a professional organization. For example, SFWA has a grievance committee which can contact the publisher on your behalf.
Although it can make you feel uncomfortable, developing the ability to ask for help is important. It can be difficult to get the balance right between being asking for help and being overly demanding (and people have their own views on where this line is drawn), but people who are able to call on help from others are more likely to succeed.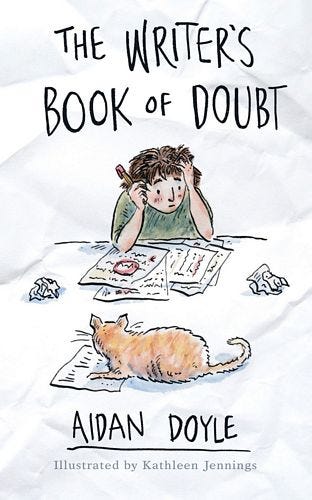 The Writer's Book of Doubt came out July 10 and you can order it here. About the book:
Impostor syndrome. Thinking that your writing sucks. Feeling targeted by the rejection cannon. Despairing that no one is ever going to read your stories. Lost in Submissionland. Overwhelmed by radioactive brain weasels.

The Writer's Book of Doubt contains practical advice and inspiration for dealing with the problems of the writing life.

Illustrated by Kathleen Jennings.

With essays from:

Aliette de Bodard, Delilah S. Dawson, Kate Dylan, Malon Edwards, Meg Elison, Kate Elliott, Lauren Herschel, S.L. Huang, Crystal Huff, Kameron Hurley, Matthew Kressel, R.F. Kuang, Fonda Lee, R. Lemberg, Likhain, Jeannette Ng, A. Merc Rustad, Mary Swangin, Bogi Takács, E. Catherine Tobler, Martha Wells and Isabel Yap.